The Mexico Gold Libertad is a gold bullion coin (kind of) that was introduced in 1981 and is issued under the authority of Banco de México .  The gold pieces are sold in 1/20, 1/10, 1/4, 1/2, and 1 troy ounce (ozt) weights.

                       .
This image below shows a modern 2016 version of the Libertad which features the new winged design.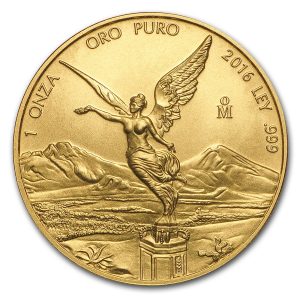 Gold Libertads are actually produced by a private mexican mint and  DO NOT have a face value, and for this reason, they are often referenced to be Rounds and not Coins. Notice the coin to the right does not have any face value.
None (Technically a Round)
On one side of the coin is a winged Victoria of Mexican Independence Victory Column in front of a landscape with the volcanoes Popocatépetl and Iztaccihuatl. The opposite side shows the coat of arms of Mexico.The new version has the Winged Victoria in another angle, and the opposite side shows the coat of arms of Mexico surrounded by historical Mexican coats of arms. The original design is based in Centenario gold Mexican coin.
There were no Gold Libertads minted from 1995 to 1999 due to presumed lack of demand and interest at the time. Production resumed in 2000 using the new design we talked about above.
A lot of people think of the Mexican Libertad as a coin but because it has no legal tender face value, it is technically considered a gold round.
Stay Tuned for more coin spotlights in this new Aaron Buys Gold series, coming soon
Below is a photo of the Reverse side. Notice no face value here, either.