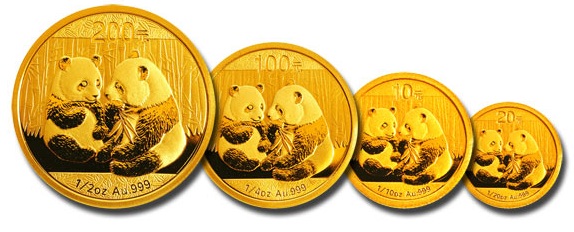 A bullion coin if you don't yet know, generally means a piece of gold, silver or platinum that is issued by a world government, bears a face value on the coin and is legal tender in the country of issue. Compare this to gold bars or gold rounds which can be minted by governments or private companies but bear no face value and are NOT legal tender.
Canada – Gold Maple Leaf 
A prime example, is our very own Gold Maple Leaf which is one of the world's most popular gold bullion coins. The Gold maple -a coin minted in various weights and face values including a 1 Ounce version which bears a 50 dollar legal tender value and goes down to a 1/20 oz version that bears a One Dollar face value. The newest versions have increased security features including micro engraved mint marks and much more. Aaron Buys Gold ltd is an official Bullion DNA dealer for the Royal Canadian Mint.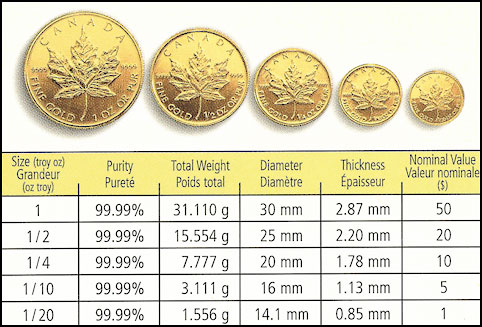 UNITED STATES – GOLD EAGLE & BUFFALO 
Next let's take a look at the United States Government's offering for Gold Bullion Coins. First minted in 1986, the U.S Gold Eagle is Offered in 1/10 oz, 1/4 oz, 1/2 oz, and 1 oz denominations, these coins are guaranteed by the U.S. government to contain the stated amount of actual gold in troy ounces. By law, the gold must come from sources in America, alloyed with silver and copper to produce a more wear-resistant coin. However, this lesser purity of only 22K instead of 24K is not popular among some investors who prefer pure gold coins like the Canada Maple Leaf which is non GST/HST taxable in Canada.  The gold eagle due to it's purity being below .995% is GST/HST taxable for Canadian Residents.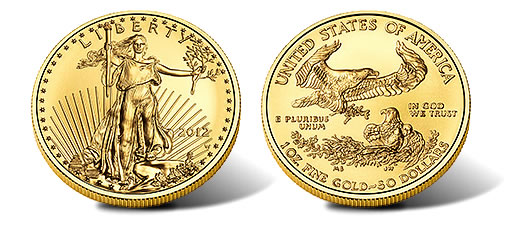 Due to some investors disliking the 91.6% purity of the US eagle. In 2006 the United States Mint issued a new 24K coin as an alternative to the still in production U.S Gold Eagle. With a .9999% purity this coin is not taxable for GST/HST purposes to Canadian Investors.  The gold buffalo is now offered in fraction sizes like 1/10oz 1/4 oz and 1/2 oz as well as the standard 1 Troy ounce coin.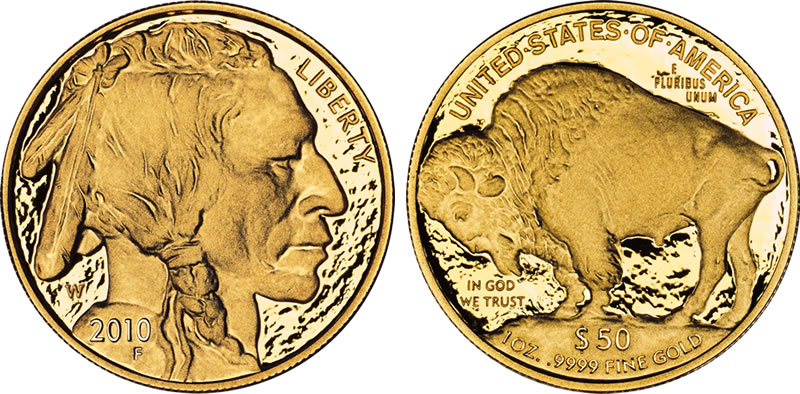 South Africa – Krugerrand 
During the great bull market in gold of the 1970s, the gold Krugerrand quickly became the No.1 choice for investors worldwide wanting to buy gold.Between 1974 and 1985, it is estimated that 22 million gold Krugerrand coins were imported into the United States alone.
The Krugerrand is 32.77 mm in diameter and 2.84 mm thick. The Krugerrand's actual weight is 1.0909 troy ounces (33.93 g). It is minted from gold alloy that is 91.67% pure (22 karats), so the coin contains one troy ounce (31.1035 g) of gold. The remaining 8.33% of the coin's weight (2.826 g) is copper (an alloy known historically as crown which has long been used for English gold sovereigns), which gives the Krugerrand a more orange appearance than silver-alloyed gold coins. Copper alloy coins are harder and more durable, so they can resist scratches and dents. Krugerrand's  due to their purity being below .995%, are GST/HST Taxable in Canada.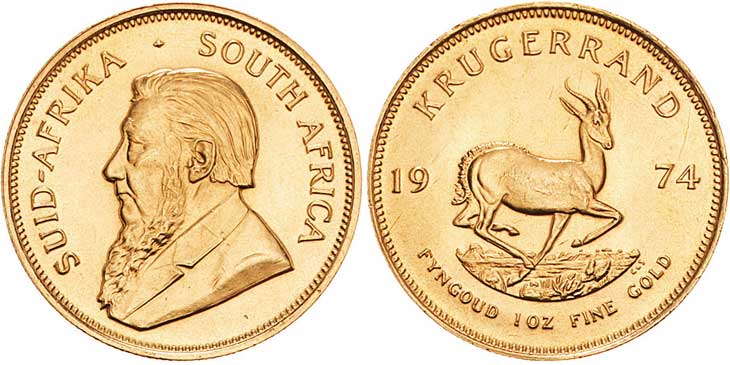 Australia – Gold Nugget
The Australian Gold Nugget is a gold bullion coin minted by the Perth Mint first introduced in 1986. The coins have been minted in denominations of 1/20 oz, 1/10 oz, 1/4 oz, 1/2 oz,1 oz, 2 oz, 10 oz, and 1 kg of 24 carat gold. They have legal status in Australia and are one of few legal tender bullion gold coins to change their design every year, another being the Chinese Gold Panda. This and their limited annual mintage may, unlike for many other bullion coins, raise their numismatic value over the value of gold used.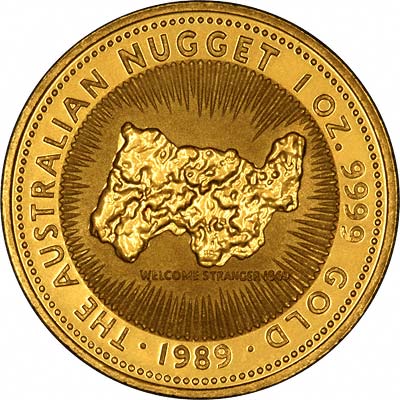 Austria – Vienna Philharmonic 
The gold Vienna Philharmonic was first offered on October 10, 1989. Initially, it was minted in only two sizes: one troy ounce as well as a quarter ounce. The one tenth and one half ounce coins were added in 1991 and 1994 respectively. All coins feature the same design with the only difference being the weight and face value shown. In 2014, a 1/25 ounce coin was added with a face value of €4.00. The popularity of the Vienna Philharmonic grew quickly: in 1990, the coin was the best selling in Europe and second in the world. In 1992, 1995, 1996 and 2000 the World Gold Council declared it the best-selling gold coin in the world. Since its introduction in October 1989 up to 2012, more than 14 million Philharmonics have been sold for a total weight of 9.6 million ounces or approximately 329 tons of gold.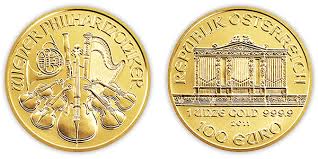 Mexico – Gold Libertad 
Libertad coins are gold bullion coins issued by Banco De Mexcio. They are sold in 1/20, 1/10, 1/4, 1/2, and 1 troy (ozt) weights.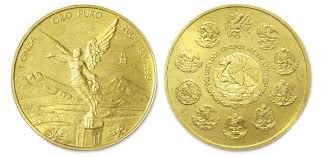 China – Gold Panada
The Chinese Gold Panda is a series of gold bullion coins issued by the Peoples Republic Of China. Panda gold bullion coins were introduced in 1982. The panda design changes every year (with a single exception) and the Gold Panda coins come in different sizes and denominations, ranging from 1/20 troy oz. to 1 troy oz. (and larger ones as well).
There are several mints that produce these coins, including but not limited to:Beijing, Shenzhen, Shanghai and Shenyang. Unlike coins made by US mints that carry mintmarks to distinguish their origin, Chinese mints usually do not employ mint marks. In certain years there are minor variations—in the size of the date, style of the temple, etc.—in the coin design that allow the originating mint to be determined.
2016 begins a new era for Panda coins. The old weight system of troy ounces will be replaced by the metric system of grams, the standard system of weights used in the People's Republic of China. For the first time the full range of Mint State gold and silver Panda coins will be issued in metric weights. This change may affect bullion buyers, who calculate their holdings in ounces, more than coin collectors who collect by denomination.